And the winners are:
Monday night league: Skip Bob Penner, Vice-Lyndsey McCollam and lead Tricia Bahen (quarter final  played by Lillian Callaghan, semi final played by Jim May)
Tuesday Morning league: Bill McCollam and Bob Penner
Wednesday night league: Skip Edna Piette, Vice-Larry Steinberg
Congratulations to you all and to all participants of the playoffs.  There certainly was some great bowling!!!
Ken Prentice Tournament:
Two SLBC winners: Jeanne Christie and George Smart for winning yesterday's Ken Prentice  Mixed Pairs Tournament. (pictured below)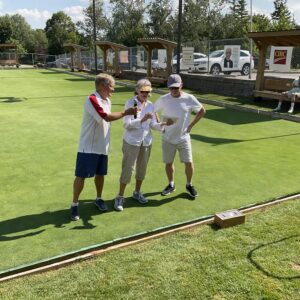 Thanks everyone for all your support of the SLBC leagues and tournaments